Yoga Punx PDX is
all-levels,
donation based
Yoga.
WANT TO SERVE North Portland as a YOGA PUNX PDX Teacher?
We are happy to announce we are offering a $400 scholarship to HEART OF VINYASA YOGA SCHOOL FALL 2020 held at Burning Spirits Yoga! APPLICATIONS DUE October 25th, 2019. EMAIL US for info…yogapunxpdx@gmail.com
Yoga Punx was founded in San Francisco by Khristine Jones in 2010. Yoga Punx PDX started in the summer of 2014. Yoga Punx PDX is a 501(c)(3) Non- Profit Organization whose mission is to bring the healing transformation of yoga to all -regardless of ability to pay, through classes, workshops, trainings and retreats. We also bring yoga to people who cannot access studios: rehabilitation centers, nursing homes, safe houses, shelters. Healing from trauma.. harm reduction...to the people. Service. Dharma. Community.
In 2017, Yoga Punx PDX served over 866 people in accessible yoga. In 2018, we served over 1000 people , offering this transformative practice and healing. We are well on our way to hit our goal of 2000 plus people in 2019. Our mission is inclusivity and accessibility to otherwise unserved communities, offers supportive and safe refuge to turn in…
Want to host Yoga Punx PDX for your program? Contact us
Yoga Punx is now an international collective, with Sanghas in Philly, San Francisco, San Luis Obispo, SFL, Savannah, Germany, Brazil, Spain and growing!
We hold true to the lineage and traditional aspects of Yoga and Punk philosophy - FREEDOM FOR ALL BEINGS. ALL are WELCOME!
Keep it sacred, nothing watered down.
Board of Directors:
Sandee Simon-Lawless, President and Executive Director/Founder
Amy Lawless, Vice President, Treasurer
Mandi Hood, Vice President, Communications
Jess Lobo Atnip, Vice President, Development
Kat Hemme- Vice President, Secretary
Tay Rusnak-Arnold, Founding Board Member
Donation-based yoga in PDX.
Suggested donation $10-$15
NO ONE turned away for lack of funds.
Thank You GIVE BACK YOGA Foundation and GAIAM for your very generous gift of yoga mats for our programs. These mats will help the journey of healing and transformation. We are deeply grateful.
For Tax deductible donations to our scholarship fund please use the link below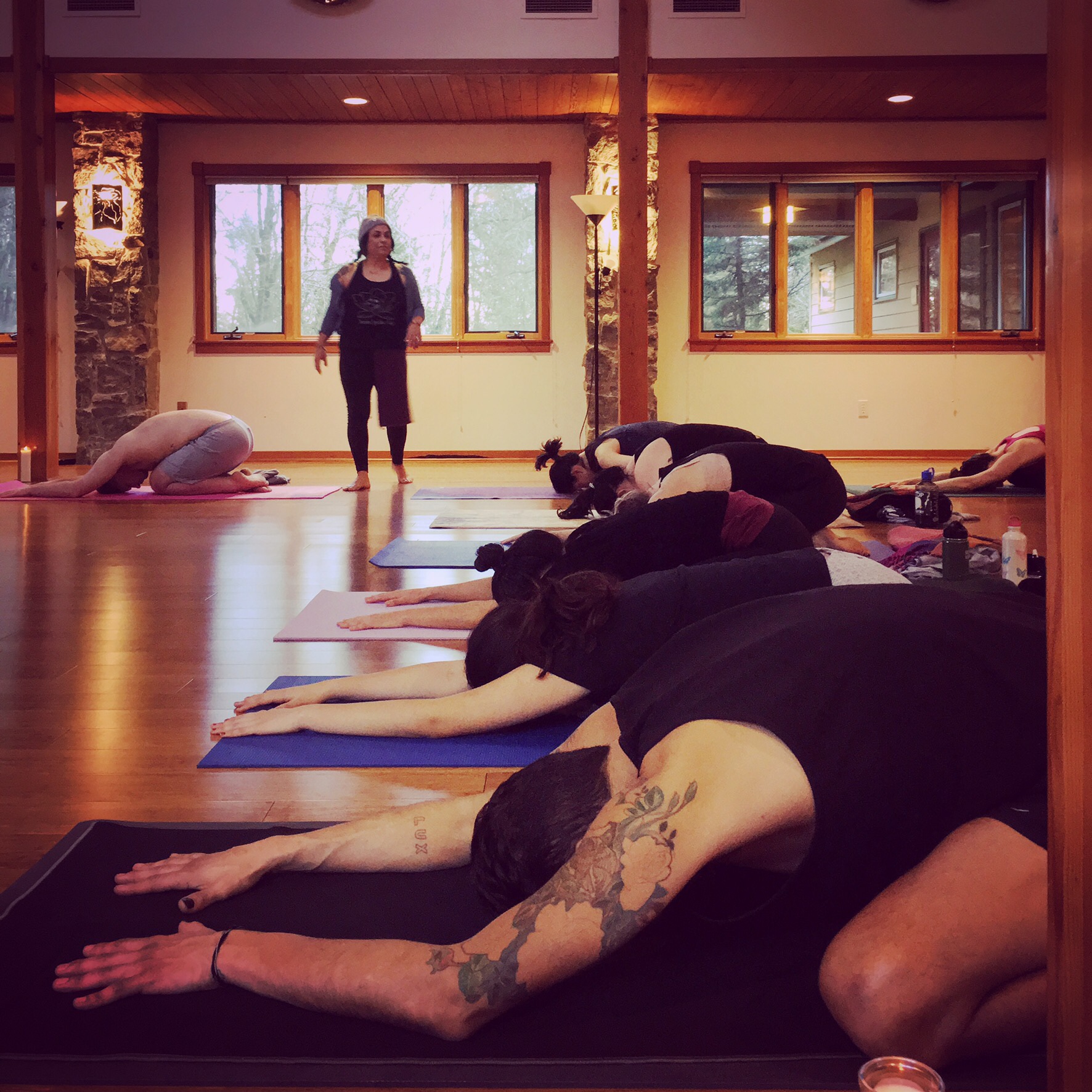 Yoga Punx is committed to making yoga accessible to all people-we remove the financial and physical barriers of studio access. Come as you are - be yourself! ALL are welcome, and we play kick ass music!
Yoga is an ancient system of breathing practices, physical postures, and meditation intended to integrate the practitioner's body, mind, and spirit.
The word yoga comes from a Sanskrit word, yukti , and means "union" or "yoke." The various physical and mental disciplines of yoga were seen as a method for individuals to attain union with the divine. A way to achieve freedom.
"Punk is musical freedom. It's saying, doing and playing what you want. In Webster's terms, 'nirvana' means freedom from pain, suffering and the external world, and that's pretty close to my definition of Punk Rock."
- Kurt Cobain